historicalyafen
is having a commentfic fest for our second anniversary. Come prompt and write!
It looks like the next title is going to be
Viva Jacquelina!
, perhaps? I haven't even read
Golden Dragon
yet, because it's my reward for improving my diet and getting into shape...which hasn't yet happened. (Seriously, I say to myself "I can read my new Jacky book while pedaling on the exercise bike!" and then I get two things done at once, but I am proving to be extremely lazy. Also, I keep throwing my back out and can't bike while it's messed up, even though the pedaling is supposed to help with that. Dumb.)
Here's a thickness comparison, and you can also see the colors of the interior covers/spines:
And, finally, the spines:
You can see that with the last three books, Harcourt has changed some of the layout for the branding - the back covers now have thumbnails of all covers, instead of just blurbs. Probably to make you go OH IT'S A SERIES MUST READ MORE.
I can't figure out why on earth the spine for
Lorelei Lee
has the title so skinny. It's hard to read and doesn't fill the space like the others, such as
Bloodhound
or
Horseman
. Even
Golden Dragon
is suffering a bit...
Oh, well. I hope y'all find my photos useful or enlightening or whatever.
Apparently a lot of people like the images I took 2 years ago of the first 7 Bloody Jack books and the cover comparisons. So I took a new series of photos, all updated with 9. (I mean, really, I get a hit or two every day on those images at Flickr, from various places.)
yuletide
exchange someone wrote me a Bloody Jack fic:
The Wake of Jacky Faber by Anonymous for nocowardsoul
Teen And Up Audiences, Jacky Faber/Cheng Shih, Jacky Faber/Amy Trevelyne
Jacky Faber
Summary
An introspective from Jacky about the various women in her life.
For this year's


So, what did everyone think?

(Here be spoilers. Ye be warned.)
So, I didn't notice a thread for this yet, but Lorelei Lee is out, and as my usual Bloody Jack routine, I read it all the day I got it in the mail.
Current Mood:

happy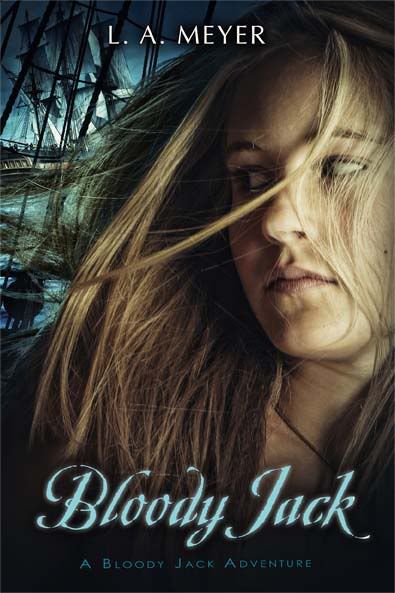 (
The rest are behind the cut
Collapse
)
What do you guys think?
As I said on the boards, I think they're kind of cool, even if the tattoo is in the wrong place. They're not ideal, but they're not completely horrible either. I will always like the original covers best, but I feel like these may attract new readers. That can never hurt, right?
Mr. Meyer says that they are re-releasing the paperback books with new covers:
I think they're pretty, hope you all like! :D
(
it has been ordained by the gods of war and of love
)
I made a couple icons for the series, mainly just of Jacky from the book covers.
Hi everyone! I'm one of the moderators on the Bloody Jack Boards. I thought you might like to know that Mr. Meyer has just revealed the cover art for
Hi Bloody Jack fans!
My name is Courtney! :D
I've been a fan of Jacky for years, and have recently been approved to run the
fanlisting
for the series.
(
http://fan.love-sick.org/bloodyjack/
)
Anyways, I noticed that Bloody Jack did not have a fanpop, and so I've created one for fans like you all and myself to help get more fans together and more people aware of the books.
You can check out the fanpop page here:
http://www.fanpop.com/spots/bloody-jack-adventures/
I already added a few things from this page; i.e. links, icons.. but if you have anything else- definitely add it!
I'll also try to make some icons later on and post them here :)
Current Mood:

chipper

I'm new to this community, this is my first post here.
I've always wondered if this is the song that inspired L. A. Meyer?

Hi.
TOTAL:
81
Bloody Jack:
7
The Dalemark Quartet: 30
The Old Kingdom/Abhorsen: 28
The Queen's Thief/Attolia: 16
( haul on the bowline, homeward we are goin' )
Hello! My name is Hikki, I'm new, and I bring LJ icons made from book covers.